Tally ERP-9 Auditor's Edition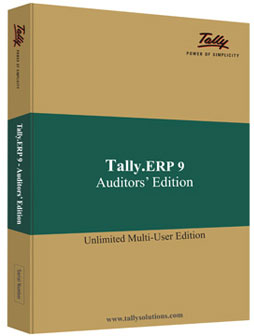 A growing economy, widening tax base and increasing compliance requirements impact Chartered Accountants. Their time is at a premium, their travel costs grow, and they find it hard to find staff. The powerful audit tool designed just for CAs can be your solution.
The audit season puts undue pressure on your Auditor's time. He has to fulfill all his Cleint's requirement simultaneously.
The right audit tool makes all the difference, enabling your auditors to close the book on time.
Syncing with Tally.ERP 9 installed at your clients' offices, this unique product can improve your practice and streamline your clients' businesses. Increase your audit effectiveness with its advanced features like remote access, and boost opportunity by adding new services –like Continuous Compliance –to your portfolio.
TECHNOLOGY comes in handy. Now provide all the information your auditor wants, in his office, at the click of a button. And go from observation to correction instantly. Interestingly, you even get an intelligent audit record. Technology and your Auditor could be best friends. Create a login for hum in your Tally.ERP9 and breathe easy…!
Highlights of Tally.ERP 9 – 'Auditors' Edition
Audit Programme
Audit Working Papers
Analytical Procedures
Multiple Sampling Methods including Benford Analysis
Schedule VI Financial Statements
Verification of Opening Balances, General Ledger Analysis/Scrutiny
Repeated Transactions
Periodic Payments & Receipts
Relative Size Factor (RSF)
Audit Journals
Checklist of Accounting Standard (AS) and Audit & Assurance Standard (AAS) compliance
Tax Audit – Form 3CD with Annexure, Form 3CA & Form 3CB
Benefits at glance
1.Increase audit efficiency

Access to the client's data and reports remotely, via Tally.NET
Special capabilities to assist in regular Statutory Compliance
Audit Dashboard and generation of annexure and reports for Tax Audit, such as : Form 3CD Annexure Clause16, Clause 17(h), Clause 21, Clause 24(a), Clause 24 (b), Annexure II, and Clause 27
100% manual verification and validation of vouchers can be avoided
Filter reports on the Audit Dashboard based on the audit requirement
Clarifications required can be posted by the CA and responded to within Tally.ERP 9

2.Increase scope of additional revenue through special services

With considerable time saved, CAs can provide new Business Advisory services to clients
Tally Integrator partners are available to jointly work with CAs to deliver technology solutions around Tally.ERP 9 for areas identified by the CA
Tally Service Partners are available to jointly work with CAs to ensure that their clients can get affordable system management and services around Tally.ERP 9 )
By participating in this programme, we are confident that CAs will improve their revenues, reduce costs and be able to offer enhanced services to their clients.
Tally is committed to supporting this with the necessary products, tools, processes, as well as a robust sales & support ecosystem.